Pacific-Basin Finance Journal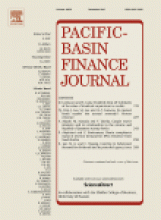 Abstract:
Conventional banks which once were competing with non-banking financial institutions and capital markets today face the new challenge of being reintermediated by Islamic banks. Earlier academic research has been debating over disintermediation and reintermediation of conventional banks, but consistently failed to address reintermediation through Islamic banks as a possibility. This study, however, fills the void by addressing the novel possibility of reintermediation "within" the banking sector and is the first attempt to analyze and compare Islamic and conventional banks from the perspective of reintermediated financial markets.
After identifying the reintermediation trends led by Islamic banks we investigate several bank specific financial and non-financial characteristics that might have enabled Islamic banks to emerge as an important player in reintermediated financial markets. By keeping our focus on slightly modified version of CAMELS framework where 'S' represents "Service Quality" we find that along with better capitalization (C) and improved liquidity (L), better service quality (S) is another distinguished feature of Islamic banks that might be linked with their high degree of intermediation.
JEL classification:
G21; N20; Z12
Keywords:
Islamic banks; Intermediation; Reintermediation; Camels; Service quality