Thursday, December 1, 2016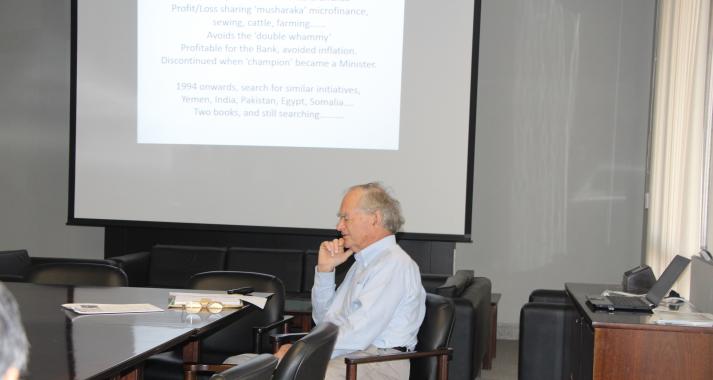 Professor Malcolm Harper talks about Islamic Microfinance at SDSB. Dr Harper was educated at Oxford University, the Harvard Business School and the University of Nairobi. He worked for nine years in a medium-sized household hardware manufacturing business in England, mainly in marketing. He then taught in Nairobi, from 1970 to 1974, before coming to Cranfield School of Management, where he was Professor of Enterprise Development. Since 1995 he has worked independently, mainly in India. He has published some twenty-five books and numerous articles on various aspects of self-employment, enterprise development, micro-finance, value chains and homeless children. His research and consultancy work has been supported by a wide range of national, international and non-government development agencies.
He has advised and evaluated a number of enterprise development and micro-finance programmes and institutions in India and in East and West Africa, Latin America and the Caribbean, the Middle East and Gulf area, South and South East Asia, as well as in the United Kingdom. From 1996 until 2006 he was Chairman of Basix Finance of Hyderabad, a leading 'new generation' micro-finance institution, and he is Chairman of M-CRIL of New Delhi, the pioneer of micro-finance credit and social rating in Asia
He was also the founding Editor-in-chief of the journal Small Enterprise Development (now Enterprise Development and Microfinance) and has been chairman, director and trustee of a number of other institutions, including Homeless International, Musoni, a Netherlands based cashless microfinance group operating in East Africa, and APT Action against Poverty in the United Kingdom.
His work has been mainly in India but he has recently worked in a number of other countries, on Islamic microfinance, livelihoods and value chain development, including Pakistan, Somaliland, Yemen, Angola, Sudan, Tibet, China and Morocco.