Friday, December 22, 2017 -

2:30pm

to

3:30pm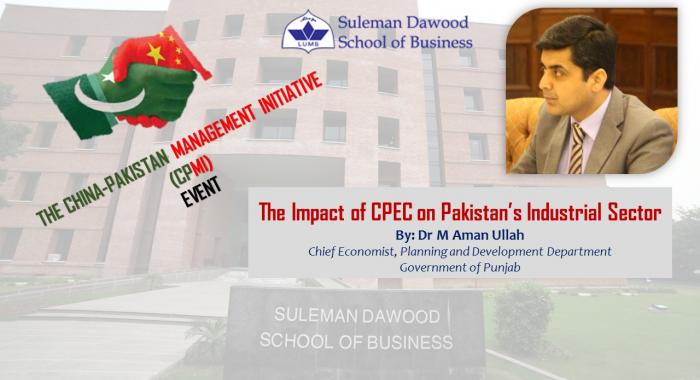 Speaker's Profile:
Dr. Aman, completed his M.Phil. in Economics from Quaid-e-Azam University, Islamabad and later went on to earn a Ph.D. in Economics from the University of Auckland, New Zealand. He is the author of several Publications and recipient of many scholarships and grants. Currently Dr. Aman is serving as a Chief Economist for the Planning and Development Department, Government of Punjab along with being the Focal Person of Government of the Punjab for Sustainable Development Goals, China Pakistan Economic Corridor (CPEC), Punjab Growth Strategy and Ease of Doing Business Reform Agenda. He is also supervising the Punjab Economic Research Institute (PERI) and Punjab Bureau of Statistics.
Abstract
CPEC, a part of China's greater initiative "One Belt-One Road", is approximately a 3,000-kilometre network of roads, pipelines and railways to transport goods from Gwadar port in Pakistan to Kashgar in the Xinjiang Uygur Autonomous Region of China. The $46 billion project intends to rapidly modernize Pakistan's infrastructure, improve energy ecosystem and establish special economic zones. CPEC is not just a transit route for Chinese exports, rather entails an elaborate plan to overcome economic issues such as unemployment, the energy crisis, the underdevelopment of national infrastructure and the overall external economic dependency by building capacity in these sectors.
A key component of CPEC is the Industrial cooperation which envisions to fully benefit from the demographic and natural endowment of the country and enhancing its industrial capability through creation of new industrial clusters, while balancing the regional socioeconomic development, enhancing people's wellbeing, and promoting domestic peace and stability. In the past five years, China-Pakistan trade has continued to grow rapidly, with the annual growth rate of 18.8% on average; bilateral investment has also been soaring, and China has become one of the biggest sources of foreign capital for Pakistan. International economic and technological cooperation has shown strong momentum, expanding into more areas while social and people-to-people exchange has increased at parallel. The orderly and timely flow of economic factors in both countries along the CPEC will significantly improve the resource allocation efficiency and bring into full play the comparative advantage of each country with respect to the industrial sector specifically.