Friday, April 20, 2018 -

2:30pm

to

3:30pm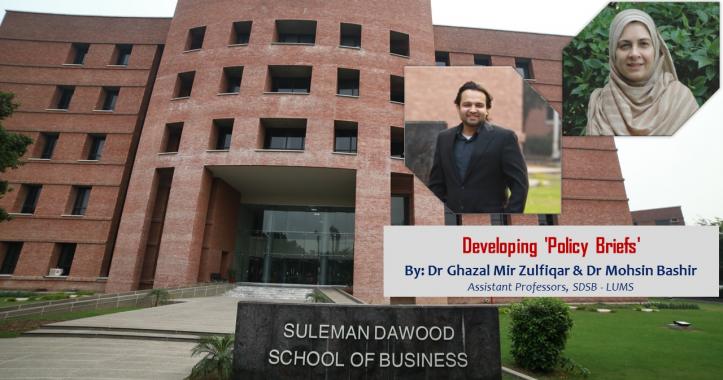 Session Outline:
Developing policy briefs has become an increasingly important technical skill in academia and SDSB encourages its faculty to prepare policy briefs in their respective research areas.
Speaker's Profile:
Dr Mohsin Bashir has authored research articles, book chapters and industry reports on Leadership and Effectiveness of Organisational Networks, Performance Management including Monitoring and Evaluation, Public Private Partnerships, Organisational Power and Politics, and Nonprofit Leadership and Management. He received his training in Participant Centered Learning (Case Method) from Harvard Business School. He completed his PhD in Public Administration and Policy from Arizona State University where he was a Fulbright Scholar. He also holds an MBA degree from LUMS and an undergraduate degree in Computer Science from FAST-NU. Dr Bashir's consulting assignments have been in the areas of Organisational and Managerial Effectiveness, Monitoring and Evaluation, Decentralisation/Devolution, Corporate Social Responsibility and Information and Communication Technologies. The client organisations such have included Nike Inc., Engro Corp., Government of the Punjab, USAID, CIDA, GIZ, SDC, various RSPs and other for-profit and nonprofit organisations.
He is a member of the American Case Research Association (NACRA) and the American Society for Public Administration (ASPA) and sits on various boards and committees in the public and development sector institutions.
Dr Ghazal Zulfiqar has a PhD in Public Policy from the University of Massachusetts, Boston, an MSc in Development Finance from the University of London, School of Oriental and African Studies (SOAS) and an MBA from the Institute of Business Administration, Karachi. Prior to joining LUMS she was faculty at the University of Massachusetts' (UMASS) Department of Economics. She also worked as a policy researcher at UMASS' Center for Social Policy where she was involved in policy evaluations and consultancies for the Massachusetts' Department of Early and Secondary Education, the Department of Transitional Assistance, the Massachusetts government's homelessness prevention initiative, and several private foundations.
Her policy experience includes rural development in the southern United States. Apart from this she has worked in international project finance and
investment banking at Citigroup, Inc. in Pakistan and the UK with projects spanning the African continent and South Asia.