Friday, November 24, 2017 -

2:30pm

to

3:30pm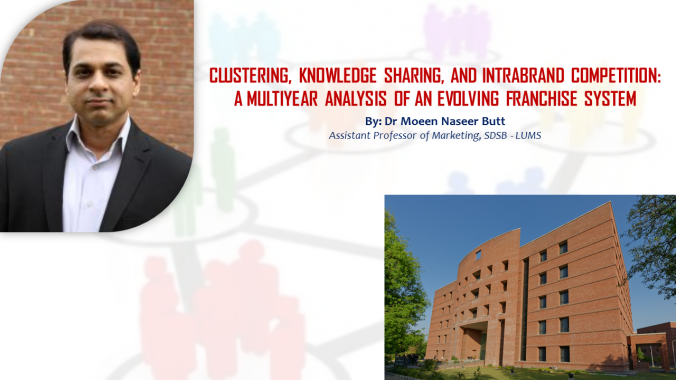 Speaker's Profile:
Dr. Moeen Naseer Butt is an Assistant Professor of Marketing at Suleman Dawood School of Business (SDSB) at Lahore University of Management Sciences (LUMS). He received his PhD in Marketing from Ivey Business School at Western University, Ontario, Canada in 2017. His current research projects include assessing the impact of growth, governance, and geography on the performance of franchise businesses. Additionally, he works in the marketing-finance interface. He relies on state-of-the-art econometrics and geographic information system (GIS)-informed spatial techniques to investigate the hypothesised relationships in the business-to-business (B2B) settings. He is also interested in the appropriate use of firm performance metrics by marketing scholars and practitioners alike. His research has been published in Journal of Marketing.
Abstract:
As franchise systems expand, the clustering and resulting proximity of same-brand outlets often become contentious issues. The increased interactions among outlets may facilitate knowledge sharing, even while inducing intrabrand competition. Prior research has considered each possibility—knowledge sharing or intrabrand competition—in isolation, resulting in conflicting recommendations to the central question whether multiple same-brand outlets should be close to or distant from one another. In this study, the authors take the perspective of the focal outlet and show that the opportunity to share knowledge afforded by clustering-based proximity may or may not be realized, depending on the motivation and ability of the proximal outlets to share knowledge, the focal outlet's ability to absorb knowledge, and the governance context. An analysis of more than 8,000 observations on the 988 outlets of a U.S.-based automotive service franchise system from 1977 to 2012, and corresponding outlet-level sales information from 2004 to 2012, provides support for the authors' hypotheses.